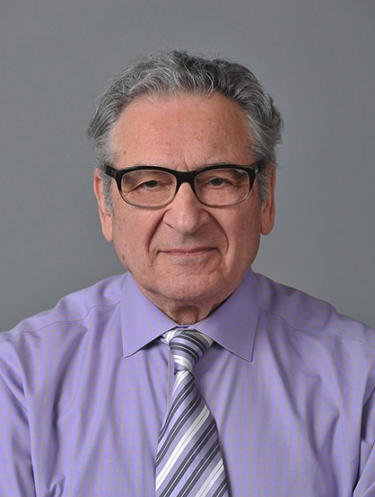 Esteemed teacher, conductor and violinist Victor Yampolsky served as Carol F. and Arthur L. Rice Jr. University Professor in Music Performance at the Northwestern University Bienen School of Music; Music Director of the Peninsula Music Festival in Door County, Wisconsin; Music Director Emeritus of the Omaha Symphony, as well as the Honorary Director of the Scotia Festival of Music in Halifax, Nova Scotia, Canada. 
Born in the Soviet Union in 1942, Victor Yampolsky – the son of the great pianist Vladimir Yampolsky – studied violin with renowned pedagogue Michail Garlitsky (1949-1961) at Central Music School in Moscow, the legendary David Oistrakh at the Moscow Conservatory (1961-1966) and conducting with Nikolai Rabinovich at the Leningrad Conservatory (1968-1973). He was a member of the Moscow Philharmonic as both violinist and assistant conductor, under the direction of the renowned Kirill Kondrashin. 
This interview is a part of a series on ageism, completed by de Tornyay Center predoctoral scholar, Sarah McKiddy (sm256@uw.edu). Read her article on ageism here, and find more interviews on ageism here. 
Could you share a bit about your background and perhaps any differences in the cultures you have experienced regarding views on aging? 
Humans in many ways are the same. All of us are born, live our life, and pass away – it doesn't matter which language we speak. At some point we realize we use different amounts of energy to overcome obstacles as we get older; that's a very normal thing in daily living. How we treat one another throughout the world differs, however. What is a norm here is not necessarily a norm somewhere else in the world. The United States of America is a very, very young country. As a society, it is less than 300 years old. I brought my country's tradition, which was the Soviet Union.  
My thinking has always been about tomorrow: what is tomorrow? There was always a full plate of activities for tomorrow: mental labor, physical labor, reflection, meditation, physical exercise, speaking on the phone, traveling. From my profession as a teacher, I met individuals from various cultures across the globe. I managed to see a kaleidoscope of human experiences.  
When do we start feeling that something is different, that we are aging? The answer is: we don't. I don't feel it, and it's something that has bothered me because in conversations we talk about people who are "old." My wife and I recently heard the recital of a pianist and my sister-in-law said there were a lot of "old people" present. But I did not think that I was one of them, despite the fact that I am just one month away from being 80 years old.  
Conducting as a field may be an anomaly in that conductors are commonly seen as being able to offer more insights, creativity, and knowledge and continue to actively conduct beyond the typical ages of retirement when compared with other professions.  These are the very values and sources of growth that sometimes get lost in our narratives about aging.  Would you agree with this observation?  Or do you want to add anything? 
Obviously, there are unmistakable changes in the body, but there were changes throughout my entire life. One of my old colleagues, whom I admire very much, was the world-famous cellist and conductor Mstislav Rostropovich. The last time I saw him was at the end of his life, when he was already close to 80 years old. Shortly after, he passed away, and I saw his burial stone across in a cemetery in Moscow. When I saw his grave, the last things he told me in Russian language were: (Translated) Old man, never slow down! Obviously, I remembered this almost daily since I have been a teacher until a month ago when I retired. I always remind my students: Never slow down!  
In the profession of conducting, there are interesting ingredients: conductors work standing up, which has its health benefits; conductors are always using physical gestures with the upper body and involve a degree of cardio, which is related to longevity; conducting requires the constant work of your brain, which is like a constant exercise of the brain: directing the orchestra, adjusting to sounds, and remembering musical text. In these ways, conducting is conducive to living a longer life and staying mentally and physically active. Of course, I also want to recognize the privilege of these experiences I am sharing. 
Generally speaking, aging is misinterpreted in a way because I think there is a big difference in looking at the number and internalizing it. We invented this word: aging. We invented another word: retirement. All these milestones are made by us for either economic or political reasons. They are not really "natural" reasons. Growing up in the Soviet Union, there was a retirement age of 60 for males and 65 for females, which had nothing to do with physical or mental abilities. It had something to do with the notion that the Soviet Union, as the most progressive country in the world, did not have any unemployment. By sending millions of men to retirement at 60, they provided jobs for younger men, and there was no unemployment. This sends a message that at a certain age, you are done. This can affect the way people view themselves, and they self-limit their activities. Psychologically, it has nothing to do with human nature, but rather self-perception. In the US, I remember learning from my colleagues that I would reach my retirement age of 65 in eight months: I guess I missed it by over ten years. 
When I look at myself, I think of my mother: she lived every day like a duty. Going back now to the culture of Ashkenazi Jews, most practice Judaism as a religion. I was told a long time ago: Don't try to save the world; try to save one person. The Jewish religion is built upon the idea of a 'mitzvah,' which means, "You must do good things every day." Jewish people are to perform up to 600 mitzvahs throughout their lives. I was told by rabbis in my past that you don't need to count 600 mitzvahs; just try to do one or two every day. And not for yourself, but for others. In the philosophy of the Jewish people, there is no room for ego. In music, we are largely not performing individually with our instruments or voices. We play music that was created for a group of people: choir, band, orchestra, or various combinations. We are servants of the composer, so there is no place for ego, only our shared human experience.