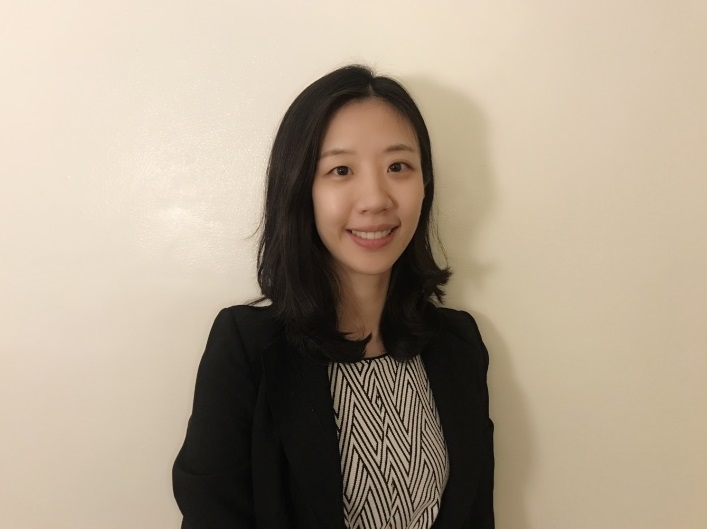 Dr. Hyejin Kim is a post-doctoral scholar with the School of Nursing. She is working with Dr. Azita Emami and researchers at the Karolinska Insitute in Sweden to study stress and music therapy in people with dementia and their caregivers. 
Why did you choose nursing?
There was no question. I always wanted to make a difference as a nurse. I worked as a nurse in South Korea in the neurology and organ transplantation units. I was responsible for making the patients feel safe. When my patients told me thank you for saving my life, it was an incredibly rewarding feeling. That isn't found in every career.
After working as a nurse, why did you want to move into research?
When I was an undergraduate student, I remember one day in a clinical class my professor asked me, do you know why ICU patients should be repositioned every two hours? I had never thought about it. She explained that nursing is science and nursing practice is based on evidence. That was my a-hah moment. When I was a nurse, I realized that what I really wanted was to contribute to nursing science. So I pursued a master's degree and came to the United States.
What interests you about healthy aging?                                           
I love older adults. People in the world are living longer than ever before. Healthy aging ensures independence and productivity as we age. As people age, they often experience stigma and discrimination related to growing older. But I don't think old age means the end of the road. I've seen that older adults who are staying physically, mentally, and socially active are more likely to think positively and recover from illness more quickly than those who are not.
Did you have any previous experience working with older adults before going into research?
During my time as a master's student in South Korea, I was involved in aging research projects within my previous mentors' funded grants, such as fall prevention and physical activity. By serving as a research assistant and project manager, I became increasingly interested in late life cognitive impairment. My ultimate plan is to develop effective biobehavioral interventions for people at increased risk of Alzheimer's disease.
Could you talk a little more about the project with Dean Emami and your role in it?
The ultimate goal of the study is to reduce the levels of stress among persons with dementia and their caregivers by giving them effective music therapy. We collected saliva samples as non-invasive biomarkers of stress before and after the music intervention. This project is conducted in Sweden and I am working closely with a multidisciplinary research team. As a post-doctoral fellow, my primary responsibility is to analyze data and disseminate the research findings. We hope that our music intervention would help improve the quality of life for persons with dementia and their family caregivers living at home.
Why is this project important?
It is important to reduce the levels of stress among people with dementia and their caregivers because the high levels of stress could affect both physical and mental health, and ultimately, the quality of life.
What interested you about this project?
Before joining the University of Washington, my research has focused on people with mild cognitive impairment (MCI) and people who are cognitively intact, but experiencing subjective cognitive decline. I didn't have any experience in intervention studies. This study was interesting to me because interventions are important for people with dementia. I wanted to expand my knowledge and skills in the area of dementia research.
What was the focus of your dissertation?
I was interested in individuals' thoughts and feelings about their health conditions, their so-called illness perceptions, and how their illness perceptions influence self-management behaviors such as physical activity and medication adherence. I examined two conditions, type 2 diabetes and mild cognitive impairment as common physical and mental disorders.
Interestingly, persons with mild cognitive impairment were less likely to view their disease as chronic and controllable compared to those with type 2 diabetes. They felt they had a lower understanding of their health condition compared to people with type 2 diabetes.
How would hope that this research would be used?
I think nurses and other health care providers who are counseling people with late life conditions, they should consider patients illness perceptions when discussing self-management behaviors for health promotion. The next step would be, how can we change their illness perceptions to improve self-management behaviors.
You also competed a study on brain scans for individuals with mild cognitive impairment, what did you find?
In that paper, we explored factors influencing decisions to pursue a brain scan among persons with MCI, mild cognitive impairment, and their care partners, family caregivers. We wanted to know how they felt about scheduling a brain scan. Participants were likely to focus on the benefits of learning their brain status rather than possible drawbacks or limitations of doing so. It's interesting because right now, there's no treatment or cure for cognitive impairment, but people with MCI really wanted to know their brain status. The majority of participants described that by learning their amyloid scan results, they can get more information about their brain status and they can plan ahead.