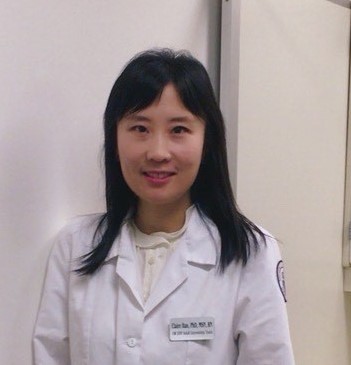 Claire Han was the de Tornyay Center's 2020-2021 Germaine Krysan Doctoral Scholar. A recent DNP graduate, Han's project was 'Tailoring Chronic Disease Management Care Pathways to Older Adults and their Caregivers in Adults Family Homes' and faculty mentors were Hilaire Thompson and Kristen Childress.
Why did you choose nursing?
When I was between five and eight years old, my mom had severe anemia, and went to the hospital multiples times in a year. Most of the time I followed her to her appointments. When I visited hospitals, the nurses and physicians were always kind to my mom and me. After three years of treatments, my mom fully recovered, and I thought that being a nurse or physician would be a good career where I could help sick people.
What has been an unforgettable experience during your time at the School of Nursing (can be general or specific)?
The School of Nursing provided great opportunities for interdisciplinary training. Interprofessional education sessions and guest speakers from different disciplines during the DNP courses were great experiences. Taking courses outside of the School of Nursing gave me an opportunity to work with students in different disciplines. I learned a lot from them by expanding my perspectives on how to do nursing research and provide patient care. Dr. Hilaire Thompson, the chair of my DNP project and mentor, always challenged me to think about the connection between nursing research and clinical application, by considering the feasibility, value and benefits of nursing research.
How has your experience at the School of Nursing helped you with your career trajectory?
The School of Nursing trained me well by providing experience in both clinical-based practice and clinical research during the DNP program, as well as intensive research trainings during my PhD program at UW.
The School of Nursing also provided great mentorship. I met great faculty mentors who are my role models in my career development. They provided insight into my future career as a primary care provider, nursing researcher and educator. They taught me professionalism, and trained me to be good scholar, a good person, a good team member as well as a patient advocate. Several nursing faculty at the UW have worked as a nurse clinicians, researchers and educators. Their roles gave me the motivation to pursue a DNP degree after completing my PhD degree.
What made you realize you wanted to do research?
When I started my job as an ICU nurse, I was not aware how closely research is associated with clinical practice. Later, when I joined an evidence-based practice nursing task force team, I realized that every clinician should know and utilize research for our clinical practice. That moment gave me a strong passion to pursue evidence-based practice in my career.
I have been working as a nurse for 8 years in ICU and in geriatric areas. Given my clinical background, I am interested in research to improve self-management of older adults with chronic diseases and their symptoms.
What interests you about healthy aging?
I am interested in maintaining dignity, self-care ability, and quality of life as we get older.
What is your healthy aging related project?
My project is to develop chronic management care pathways for home health aides and older adults in adult family homes. This care pathway is a simple step-by-step guide to managing heart failure, diabetes, and hypertension in adult family homes.
Has there been anything that's surprised you while doing this project?
There are growing numbers of adult family homes, which are home-like environments for older adults. Eighty percent of older adults have at least one chronic disease in adult family homes. More than 80% of older adults in adult family homes rely on home health aides as unlicensed formal caregivers. Despite the demands of quality of care in older adults, I found that there was lack of education, guidelines, and resources for home health aides on managing chronic diseases in adult family homes. It is significant finding, and I am glad that I can bring up this issue through my DNP project and in-depth literature review.
What interested you about this project?
I was interested in developing practical tools, or care pathways, to guide caregivers, tailored to adult family home settings. In adult family homes, there are no nurses or nurse aides. The caregivers are not medically licensed. So, they need education and guidance in managing older adults' chronic diseases, specifically in hypertension, diabetes and heart failure, the most common diseases among older adult residents in adult family homes.
Why is this work important?
With my project, my ultimate goal is to improve the quality of caregivers' skills and knowledge in managing the chronic diseases of their older adult residents and improve their confidence in caring for residents by providing evidence-based practice. This project will contribute to community and public health in the geriatric population.
What are your plans after graduation?
With my DNP degree and as a primary care provider, I would like to work with older adults in long term care, skilled nursing facilities, home, and hospice care areas. Also, I would like to continue my DNP project to improve symptom management and self-care of their chronic diseases in older adults in adult family homes.