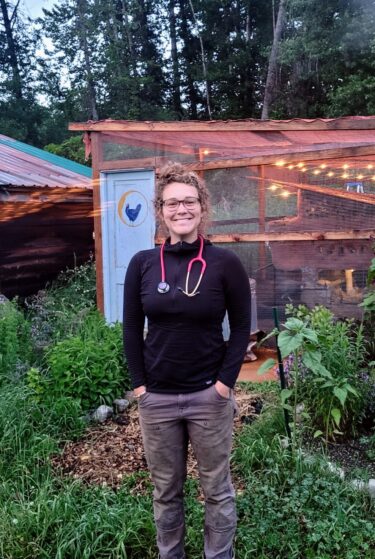 Tedra "Teddi" Hamel is an Accelerated Bachelor's in Nursing Science student and the de Tornyay Center's 2022-2023 Myrene C. McAninch Undergraduate Scholar. Her project is "Understanding Age-related Psychological Changes: A Secondary Data Analysis". Her faculty mentor is Dr. Basia Belza.
Why did you choose nursing?
Coming from a background in outdoor education, I am used to working with a group of ten students for four or eight weeks. It's a life changing experience for those students, but it's a small population to work with. I wanted my next profession to be more accessible to more people. I hope to work in the ER at some point. The ER is a place where you serve anyone and everyone –people don't have to be healthy enough to go on a backpacking trip. So it's about giving my energy and resources to more people instead of just ten at a time.
What made you want to do research?
I come from a liberal arts background. My BA was in history and I had to do a thesis for graduation. I did a full year of research during my senior year of undergrad. I feel like doing research helps you delve into the issues of a field in a way that you might not fully get if you're just working.
Could you briefly describe your project with the de Tornyay Center?
My project will be on the psychological changes that are self-identified in older adults, using the Engaging with Aging framework initially developed by Doris Carnevali.
The main framework of Engaging with Aging is identifying coping mechanisms and adaptations that older people are already using.
I'll be analyzing the transcripts that have already been collected and looking for broad themes of psychological changes with the hope of identifying strategies and resources, that older adults already use themselves to get through those challenges and changes. Knowing these adaptations can be very helpful for those that work with older adults.
What sort of psychological changes are you looking for in the transcripts?
What I've seen is that a lot of it is changes in emotional feelings, or how emotions are expressed, or all of a sudden they're feeling a lot of sadness or feeling less emotion. So, how their psychological understanding of themselves and their feelings change over time.
Why is this research important to do?
I like this project based on the fact that we're hearing older adults' voices on how they are experiencing aging, instead of just applying blanket techniques, or band-aids, or what we think is right.
I know the Engaging with Aging research is informing providers on good ways to support older folks in their own self-identified strengths and adaptations versus just applying something outside of them.
What interests you about healthy aging?
I was young when three of my four grandparents died, but my mom's mom lived until 2019. She had dementia for the last seven years of her life, and seeing her go through that and seeing my mom support her was eye opening. Our society doesn't have good solutions or good structures in place for everyone that has to go through aging. I think that sparked my care and passion for it.
Then, the last few years I've been working in rural health in Eastern Washington as a medical assistant and also an EMT, and there's so many people in the older population that just don't have the resources. It's really hard to live out there, and so the EMS system is used a lot to support them. If they fall at home, they'll call 911 and then the EMTs get sent out there to help them get up.
There's only 12 beds in the local assisted living facility and there's always a year long wait list. So people tough it out at home, even though that area receives up to four feet of snow every winter. It was a really interesting place to get introduced to aging at home because a rural place is a totally different ball game than the city. So I got curious about how we help folks age gracefully in our society.
What are your plans after graduation?
I do want to get ER experience here in the city. I want to be a flight nurse at some point in the future. That environment really suits my skill set but that would allow for a lot of other work too. I could see myself being a clinical nurse in my small community in eastern Washington. That position is a really cool combination of nursing skills. You set up flu vaccine clinics at the local assisted living centers, as well as being the nurse at the local urgent care, etc. You end up working with the whole population. But mostly I'm planning to graduate, and probably work in a hospital for a few years to get experience.