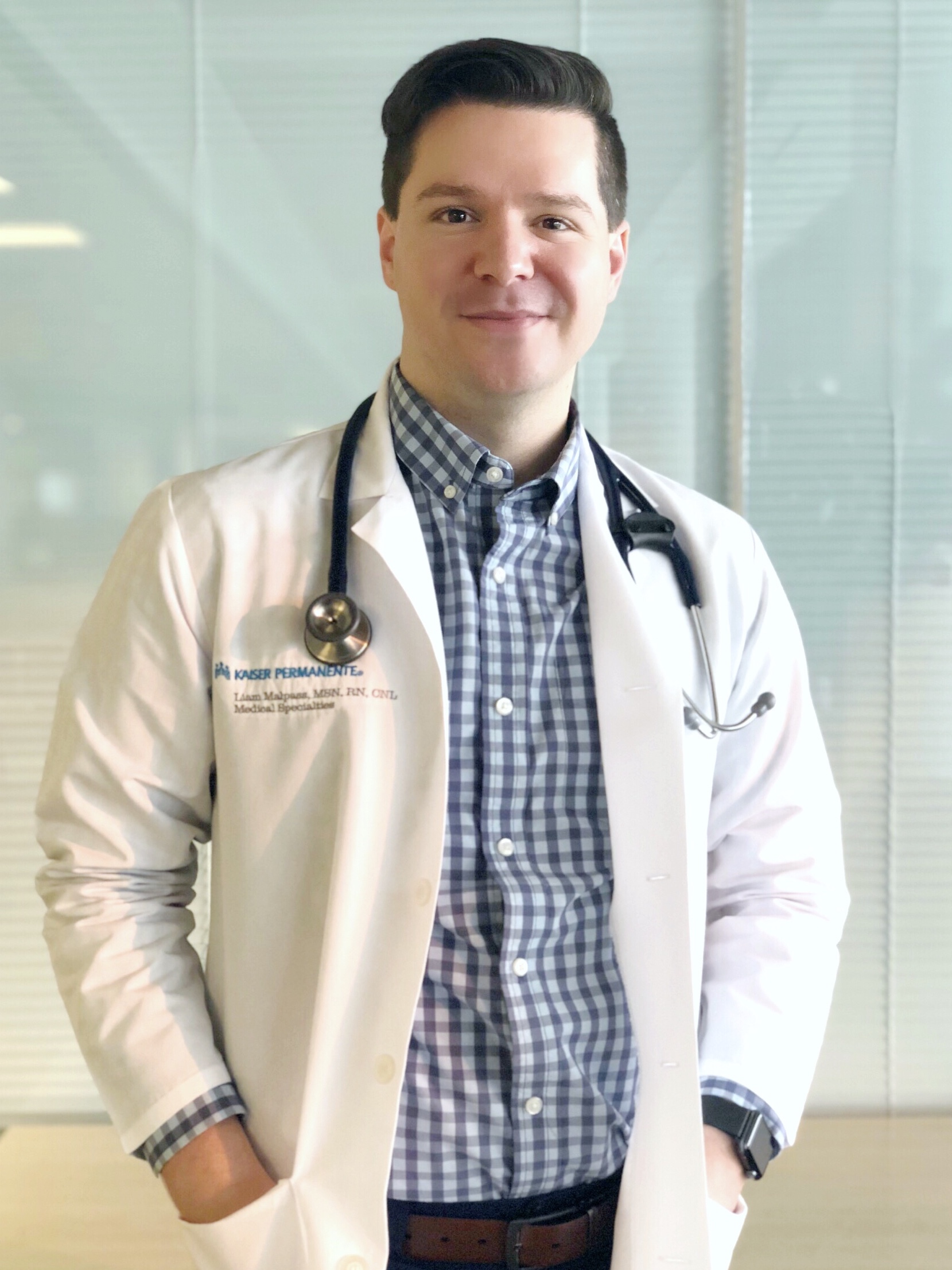 Liam Malpass was one of the recipients of the de Tornyay Center's 2021 Pathways to Healthy Aging Award. A recent DNP graduate, his project was ' Improving Utilization of Telehealth among Clinicians Caring for Older Adults'. His faculty mentor was Gail Johnson.
Why did you choose nursing?
Nursing was a natural career path for me. I've always loved helping people and have been interested in science and health. My mother works in a hospital as an educator and so I grew up in the clinical environment. Ironically, when I was younger, I thought 'I'm never going to go into health care'. Then I found my way here and I couldn't imagine doing anything else.
Before I got into nursing, I worked in healthcare administration supporting marketing and public policy teams. The experiences I enjoyed the most were those in which I worked closely with clinicians. There were a couple of nurses in my life who, somewhat insistently, encouraged me to become a nurse. So, I took that training and I have never looked back. I love nursing. There are endless opportunities within the profession, and you can find a job doing almost anything, whether that's patient care or not. That provides a lot of variety and a lot of excitement.
What's been an unforgettable experience during your time here at the school of nursing?
Going to school during a pandemic. That in and of itself is something I probably will not forget for the rest of my career. We had to become flexible and adapt, whether that was with instruction, or how we operated within the clinical environment. This experience has helped me to become resilient and more comfortable operating within a constantly changing environment. Future healthcare systems will require people who drive innovation, moving fast and implementing ideas to meet constantly evolving needs.
How has your time here at the school of nursing helped you with your career trajectory?
I already have a master's degree in nursing with a focus on clinical leadership. I was a clinical manager when I started the DNP program, and while I truly enjoyed supporting teams, I felt a continuous draw to return to direct patient care. The DNP program trained me as an advanced practice provider and leader and prepared to meet the increasingly complex demands of our healthcare system. It's exponentially grown my clinical and leadership knowledge and capabilities. Perhaps most beneficial has been the DNP program's focus on understanding systemic issues that contribute to disparities in the health of our communities. The ability to apply a lens of social justice in health will continue to influence my practice for the rest of my career.
What's interested you about healthy aging and geriatrics?
I've always enjoyed working with a broad range of ages in family practice. Through my clinical rotations I discovered an interest in geriatrics. I had the privilege to be paired with a nurse practitioner who cares for patients at skilled nursing facilities and who also makes medical house calls for patients who are homebound. The home visits were a truly unique experience. I was invited into people's homes, which added an entirely new layer of understanding to the environmental factors and the social factors that contribute to older adults' health and wellbeing. There's a huge need and opportunity to be an expert in this area, helping people who are living longer enjoy a better quality of life.
Could you briefly describe your DNP project?
I worked with a team of providers who care for older adults across a variety of settings including nursing homes, long term care, and private residences. At the beginning of the pandemic, many of these facilities were locked down, limiting access in an effort to avoid COVID-19 outbreaks. This team had to rapidly figure out how to adapt their care using telehealth. There were a lot of issues that popped up. The team needed help to understand what could be done to improve telehealth with geriatric clients. I had the opportunity to conduct a needs assessment to understand providers' experiences, identifying both barriers and facilitators to using telehealth.
Then, I conducted a literature review to establish how telehealth is already being used with older adults, identify best practices, and consider how to adapt to the specific needs of this team. I presented my findings to the group and made a point of care tool to help them to improve their experience using telehealth to care for their patients.
What does the point of care tool look like?
The tool is an easy-to-use, concise checklist that providers can pull up when they're about to engage in a telehealth visit with older adults. It incorporates evidence-based best practices to use before, during, and after visits. My goal was to make the tool as easy and useful as possible. It focuses on actions, resources, and behaviors providers can use to accommodate the unique needs of older adults.
What were some of the telehealth strengths and weaknesses that you found?
Technical glitches were a big problem. It's surprising, you know, we often say we can put a rover on Mars, but we can't get a good signal for a video call in a nursing facility. While that's not something we as clinicians can directly control, we can be partners in guiding improvements. Another concern was determining how to adapt telehealth to accommodate common communication impairments in older adults. Most standard equipment is not well suited to patients who might have a hearing deficit, decreased vision, or a cognitive impairment. Among our providers, there was a gap in knowledge and experience in virtually assessing patients, which contributed to discomfort in using telehealth.
A strength was the effort to include families and caregivers in telehealth visits to provide support for patients. Another great thing was working with the nurses in the nursing facilities to assist with patient assessment. The providers really relied on and got help from those nurses who were able to engage at the top of their scope of practice. Finally, providers' ability to access health information remotely was a real asset, emphasizing the importance of electronic health record interoperability.
Why is this work important and why might it continue to be important, even after the pandemic?
The reality is that the number of people living to an older age continues to grow at a rapid rate. We're not going to be able to meet everyone's needs in the traditional system that we have set up now. Telehealth will be an important tool in helping us to care for the aging population, making sure that we have better care that enables people to age in place, which is something that's important to many, many people.
What are your plans now that you've graduated?
I'm studying for my board exams right now, and I am excited to take on opportunities to grow the skills and experiences that I've developed through this project and through my studies at the University of Washington. I would love to work in a position that allowed me to further develop and refine telehealth and understand how technology can help us to promote healthy aging.