The de Tornyay Center for Healthy Aging is pleased to announce the 2020-2021 Healthy Aging Scholarship recipients.
We extend our thanks and high regard to all who applied. Scholarship recipients receive funds and support for research projects related to healthy aging and older adults.
Please join us in congratulating these exceptional scholars and their faculty mentors!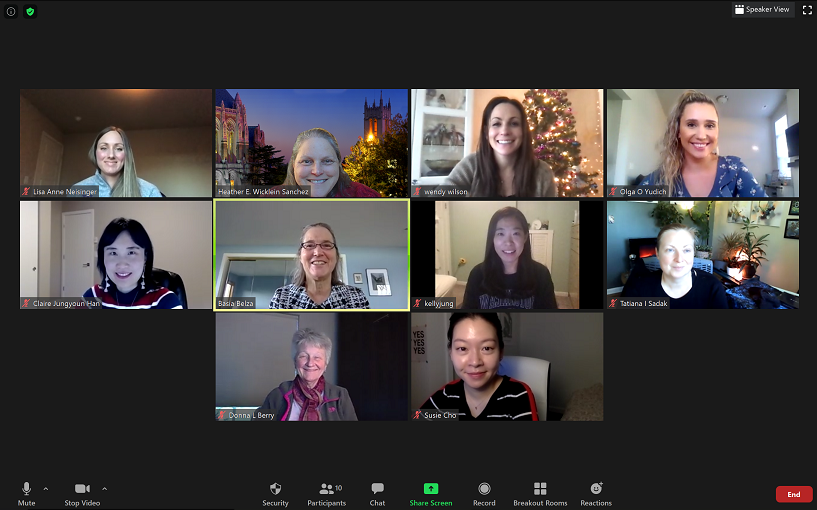 PhD RESEARCH SCHOLARSHIPS:
Susie Cho, Myrene C. McAninch Doctoral Scholar
Topic:  A Qualitative Thematic Analysis of the Facilitators and Barriers to Self-care Practices in Care Partners of People Living with Dementia
Faculty Mentor:  Tatiana Sadak PhD, PMHNP, RN, FAAN
Wonkyung Jung, Healthy Aging Doctoral Scholar
Topic:  Social Integration after Traumatic Brain Injury in Older Adults
Faculty Mentor:  Hilaire Thompson, PhD, RN, CNRN, ACNP-BC, FAAN
Wendy Wilson, Healthy Aging Doctoral Scholar
Topic:  Significance of Dignity in End-of-Life
Faculty Mentor:  Donna Berry, PhD, RN, AOCN, FAAN-DF/HCC
DNP RESEARCH SCHOLARSHIPS:
Claire Han, Germaine Krysan Doctoral Scholar
Topic:  Tailoring Chronic Disease Management Care Pathways to Older Adults and their Caregivers in Adults Family Homes
Faculty Mentor:  Hilaire Thompson, PhD, RN, CNRN, ACNP-BC, FAAN
Lisa Neisinger, Healthy Aging Doctoral Scholar
Topic:  Home ZIP Code Outcomes in Older Burn and Trauma Patients
Faculty Mentor:  Hilaire Thompson, PhD, RN, CNRN, ACNP-BC, FAAN
Olga Yudich, Healthy Aging Doctoral Scholarship
Topic:  Improving Coordination of Care of Highly Complex Geriatric Patients
Faculty Mentor:  Hilaire Thompson, PhD, RN, CNRN, ACNP-BC, FAAN
UNDERGRADUATE RESEARCH SCHOLARSHIP:
Hillary Frey, Myrene C. McAninch Undergraduate Scholar
Topic:  Identification of Triggers that Alert Older Adults to Prepare for Age-related Changes
Faculty Mentor:  Shaoqing Ge PhD, MPH
Derick Welsh, Germaine Krysan Undergraduate Scholar
Topic:  Learning about the Engaging with Aging (EWA) Experience among Older Adults
Faculty Mentor:  Basia Belza PhD, RN, FAAN, FGSA