The Ignite Aging Symposium is an annual event hosted by the de Tornyay Center for Healthy Aging, featuring a sampler of outstanding healthy aging research by University of Washington School of Nursing faculty, students and alumni. Each speaker gets five minutes to present their work, followed by a question and answer session.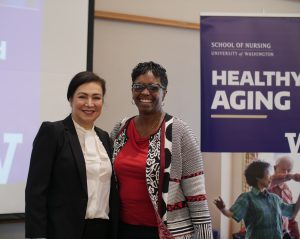 Below are highlights of the Ignite Aging symposium from September 27, 2019. Or, view 2020 Ignite Aging here.
Kicking off with Executive Dean Azita Emami on the potential of music to help individuals with dementia and their caregivers, the program was interspersed with music performed by several student musicians. Music has proven to have great potential in reducing agitation and improving communication in people with dementia. Emami is investigating music's potential in reducing caregiver stress.
PhD in Nursing Science student, Yan Su, presented her analysis of the blog, Engaging with Aging, written by 97 year old retired nursing faculty. Her analysis of the blog identified major themes including discussion of age-related changes and how the blogger responded to those changes. Over 18 months of writing the blog, the author seemed to gain insight into her experiences and derive pleasure in sharing them.
Our brain waves are sometimes fast or slow, depending on what we're doing. The fast waves are conducive to hard tasks, like solving a puzzle, but slow waves are important for resting and sleep. Chronic insomnia can come from having too much of the fast waves and not enough of the slow, said Associate Professor Jean Tang. She's developing a device to help fight insomnia, which uses light and sound to coax the brain's activity into slow waves. The device has shown promise in pilot studies.
Poor diet is one of the leading causes of death, Assistant Professor Oleg Zaslavsky shared. Low consumption of healthy foods like whole grains, nuts and vegetables can be dangerous to your health. Previous research has identified the Mediterranean diet as having numerous health benefits. Zaslavsky and his colleagues are developing an app to help older adults follow the diet. The app will include, among other things, food and ingredient recommendations, information about the diet, and a way to talk with health care professionals.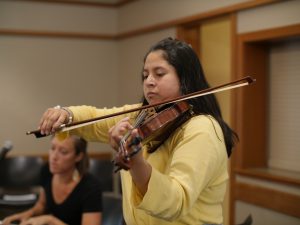 Chemotherapy physically changes the body in ways that can correspond to a decade or more of aging and can lead to earlier development of chronic conditions, such as heart failure, in cancer patients. Associate Professor Kerryn Reding spoke on her team's work, which found that the amount of fat around the organs could predict heart failure in cancer survivors, but not overall weight. Next she wants to investigate if the fat around the organs could be causing accelerated heart aging from chemotherapy.
As we age, we grow more likely to have chronic illnesses, but our detection system is getting worse. Our perception of chronic disease symptoms, like pain, fatigue and shortness of breath, decreases as we age, Post-Doctoral Fellow Jonathan Auld told the audience. Sometimes these symptoms can also be misattributed to age. Tracking symptoms and getting in tune with our bodies can help us understand what is a natural part of aging and what is worth reporting to your health care provider.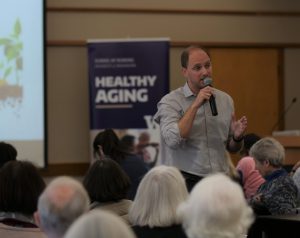 Alumna and Clinical Faculty at Pacific Lutheran University, Kelsey Pascoe, presented her dissertation research on the barriers homeless individuals recently released from jail face in accessing health care. Inmates in jails have higher rates of many health conditions. Many individuals leave jails with unmet health needs. Pascoe found that one of the problems was these individuals have higher priorities: needs like food, housing, and clothing. There were also cost barriers, including access to the internet and a phone, and transportation to and from health care appointments, in addition to emotional concerns, such as distrust of the health care system.
Join us for our third annual Ignite Aging on Friday, October 2, 2020, over Zoom. Learn more at events.uw.edu/IgniteAging2020.
Photos by SON LIT Media Group.